March 1, Once again, a professional jury awarded potentially interesting innovations. There were 13 entries, of which beautiful acquisitions. After an intensive deliberation phase, during which various aspects of the candidates were taken into account and weighed, the jury made the decision to award Gold for Primula acaulis 'Rubens' Antique rose. Leucothoe axillaris 'Opstal55' (Curly Gold) was awarded a silver medal, and Azalea Star Style® lila received Bronze. In its assessment, the jury gave consideration to the added value the new cultivars bring to the existing range of their species.
Gold
Primula acaulis 'Rubens' Antique rose - Rudy Raes Bloemzaden NV
'Rubens' is a double-flowered, late selection. The beautiful, dark green leaves form an attractive basis for the medium to large double flowers. Antique rose is a new pastel shade within this group.
The jury appreciated the innovative colour, the unique positioning and surprising scent of the flowers and the compact bloom form. The plant produces many flowers and the petals have fringes. Another added value is the firmness of the plant, which means that it can withstand wind and weather in the balcony boxes in spring.
Silver
Leucothoe axillaris 'Opstal55' (Curly Gold) - Boomkwekerij R. van Opstal
The young leaves of 'Opstal 55' (Curly Gold) are orange-red. As the leaf gets older, the colour changes. In addition to the colours, the twisted leaf shape is also special. 'Opstal 55' (Curly Gold) has a dense, compact habit and becomes about 60 cm high and 40 cm wide. This evergreen shrub does well in acidic, moist but well-drained soils and thrives in full sun as well as in partial shade.
According to the jury, the unique twisted leaf shape is the biggest plus. The leaf color and the discoloration towards autumn is another asset. The plant is also more robust and sturdy than other Leucothoe's. It is a cultivar that can be widely used in landscaping and the colours allow many combinations with other plants in the border.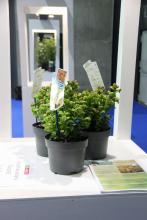 Bronze
Azalea Star Style® lila - Leybaert
This compact Azalea with elongated leaves and star-shaped flowers blooms profusely in spring and does best in sun or partial shade. The plant is very easy to care for and can tolerate temperatures down to -10°C. Star Style is about 50 cm high and is available in 3 colours (pink, lila and white).
The jury awarded the lila colour variant because the flower density and compactness were slightly better than the other colour variants. The fact that three colour variants are immediately available is a commercial added value. The flower and leaf shape are innovative within the species. Thanks to its winter hardiness, there are many possibilities for use as a patio plant.