Gold
Concept: Fruit-bearing Actinidia arguta 'Issai' – D&V Plant
This self-pollinating kiwi vine flowers in May and June, producing an abundance of creamy white blooms. In September, the customer is then able to enjoy the fruits. This makes it a useful plant that is attractive and saleable throughout the season.
The areas in which D&V Plant really shines are its sourcing of the right stock material, its proficient pruning, its perennial cultivation methods and its sturdy plant supports. In this winning concept, the plant is supplied on a frame and ready to use.
This offers added value for both the garden centre and the end consumer. As it is not always easy to get kiwis to fruit, this concept ensures that the finishing line for the fruits is already in sight.
Customers can expect between 30 and 50 delicious fruits per plant.
The jury was impressed with this concept due to the effort the grower had put into making full use of the plant's multifunctionality. This plant is more than simply decorative.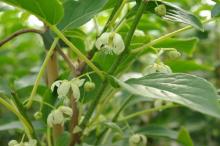 Silver
Variety: Chaenomeles Speciosa 'Pink Storm' – Willy De Nolf
This Japanese flowering quince impressed the jury with its spectacular show of intense pink blooms early in the season. The blooms are double and extremely large, making them similar in appearance to a Camellia. Pink Storm® is thornless, does not produce any fruits and is extremely easy to care for. This new variety grows to a height of between 120 and 150 cm, and to a width of between 90 and 120 cm. It can either serve as a stand-alone plant or be planted in a group, and prefers a sunny or semi-shaded position.
Moreover, this flowering quince survives easily in more challenging climatic conditions, as it is highly drought-resistant once its roots are well established.
An additional bonus is that the large double blooms are ideal for cut-flower arrangements. For example, they are highly suited to use as part of the modern Ikebana style.
This Chaenomeles was bred by North Carolina State University and has been marketed by the Belgian supplier Willy De Nolf since 2017.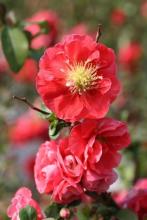 Bronze
Variety: Fargesia Murielae 'Elias' -Van Vliet New Plants
This invigorating bamboo is not invasive and has many uses, thanks to its compact growth form and unique low-growing habit. The jury was also impressed by this newcomer's versatile range of applications. 'Elias' grows to between 50 and 60 cm high and up to one metre wide, with new shoots remaining compact.
The plant is easy to care for and requires little or no maintenance. It is winter hardy down to -25°C and prefers a semi-shaded position. 'Elias' works well as a perennial and is also suitable for use on balconies or patios.
This newcomer fits perfectly into the Japanese trend. It also stays green all year round, making it highly saleable. This is a plus point for garden centres!